Lostwithiel's quirky one day festival!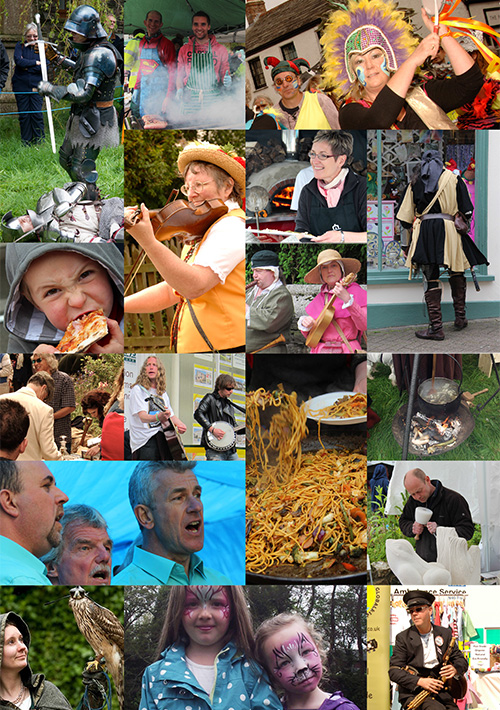 Once again, we've scoured Cornwall and beyond to bring you a fun-filled family day of entertainment!
By popular demand, Kernow Levy are back. This medieval battle re-enactment group will be slashing and slicing their way around town - don't miss any of the action! By way of a contrast, the Renaissance Historical Dance Society will be outside the front of the church, demonstrating dances from the slow and stately to the intricate and demanding. If all this wasn't enough, there will be all kinds of different acts dotted around the town, ranging from acrobats to drummers, didgeridoo-playing to folk singing, and morris dancing to samba. The entertainment culminates with our evening bands, Almost Blues and Veller Lia, from 5pm. For details of where and when, check our colourful blackboards.
As ever, there is a mouth-watering variety of food to choose from in our food village on Monmouth Square. And for the tinies there is our dedicated Kids' Corner, where you will find face-painting, balloons, and all kinds of magic.
Every penny from LostFest goes to FLEET, the charity that provides equipment to all services in Cornwall that give emergency medical support to the public. They're currently raising funds for defibrillators to be installed all over Cornwall, including Lostwithiel, so please give generously.
Check out pictures and videos on our Facebook page
Big thanks to:
All our PERFORMERS, SUPPORTERS and HELPERS who work together to make this such a popular event, but in particular the members of LOSTWITHIEL ROTARY and FOWEY RIVER LIONS who both provide marshalling and marquees, TREWETHER FARM for the use of park and ride facilities, ROBIN, PHIL and DEREK who drive the buses, and the SMALL ARMY of VOLUNTEERS who work tirelessly behind the scenes to make LostFest such a great day out.